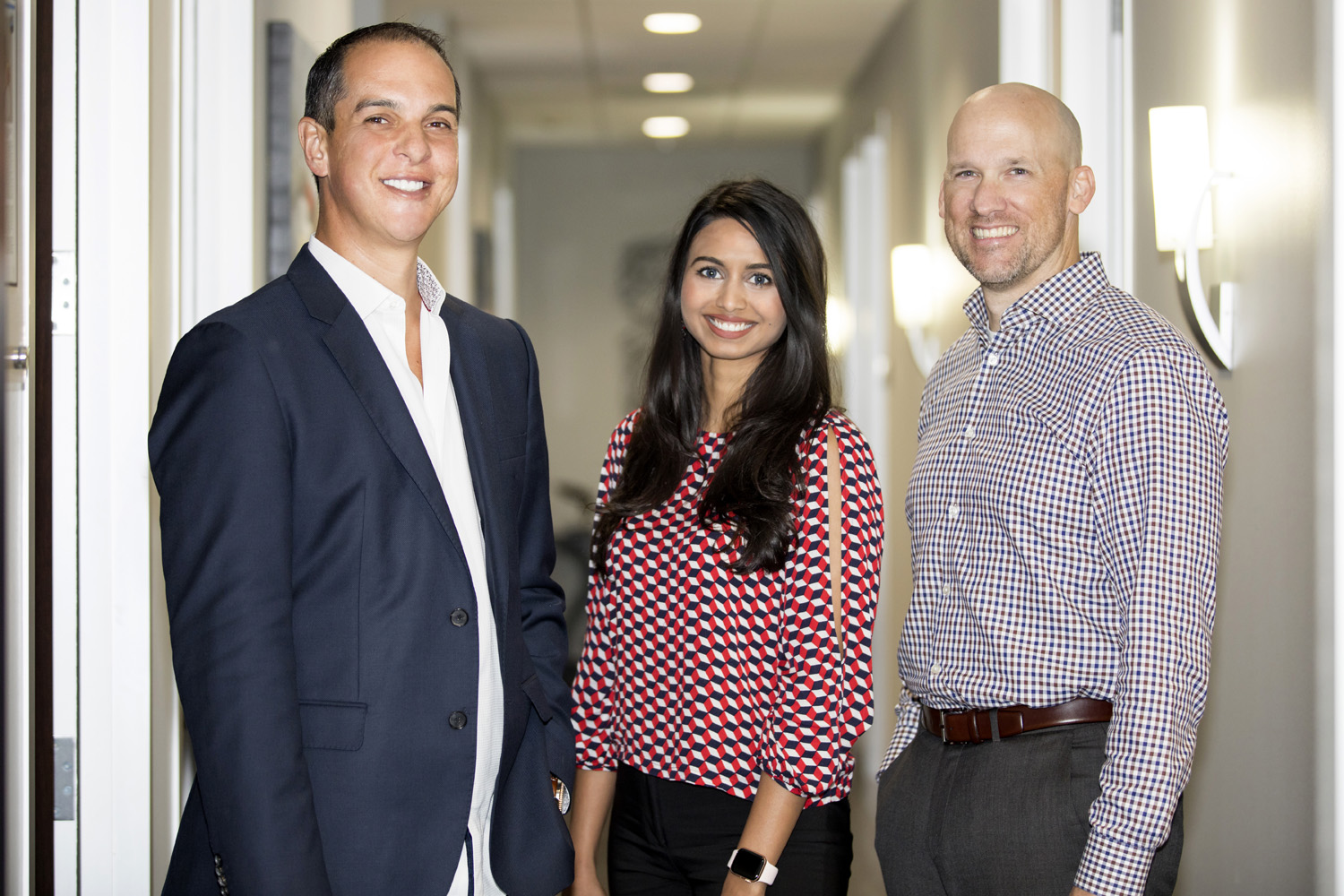 WOODLANDS CENTER FOR SPECIAL SURGERY
Dr. Mark Ciaglia, Dr. William Jordan, Dr. Hemali Patel
---
Ligaments and tendons get damaged, bones break, arthritis sets in, joints wear out, and accidents and trauma occur. When they do, the board-certified specialists at Woodlands Center for Special Surgery are here to help you "get back to your life in the simplest way possible."
From elite athletes and seniors to youth and everyone in between, Woodlands Center for Special Surgery treats patients from the shoulders and upper extremities to the toes. Customized treatment plans tailored to your individual needs are created by a team of experts at the top of their game in a welcoming office atmosphere that fosters a culture of caring, collaboration, and trust.
CUTTING-EDGE NONSURGICAL AND SURGICAL TREATMENTS
At the forefront of their fields, Drs. Ciaglia, Jordan, and Patel stay up-to-date on the latest innovations. They recommend conservative, nonsurgical treatments whenever possible but will not string a patient along when surgery is the best or fastest road to recovery. Nonsurgical treatments include injection therapies— including platelet rich plasma (PRP) regenerative medicine to unlock your body's own healing potential—physical therapy, and even alternative natural remedies such as CBD oil. When surgery is the best option, they use the most advanced and minimally invasive techniques.
The physicians also utilize leading-edge technology and several in-office modalities to confirm a diagnosis, including ultrasound and digital X-rays, and work with many area specialists taking a team approach.
MEET THE DOCTORS
Dr. Mark Ciaglia is a board-certified, fellowship-trained hand surgeon and microsurgeon who specializes in the diagnosis and treatment of hand and upper extremity problems. He earned a bachelor's degree at Illinois Wesleyan University and a medical degree at Nova Southeastern University College of Medicine in Fort Lauderdale. After completing five years of training in general and trauma surgery in New York City, he was accepted out of 135 applicants to the single hand surgery and microsurgical fellowship at Beth Israel Albert Einstein in Manhattan. Working with a world-renowned hand surgeon, his patients included high-profile musicians and some of the New York Yankees.
Dr. William J. Jordan is a board-certified orthopedic surgeon with a focus on sports medicine. After completing bachelor's degrees at Houston Baptist University, he was commissioned as a second lieutenant in the United States Army and served in Germany for four years. He then earned a medical degree at the University of Texas Health Science Center at Houston and completed a residency in orthopedic surgery at William Beaumont Army Medical Center and Texas Tech University Health Sciences Center in El Paso.
Dr. Hemali Patel is a podiatrist specializing in foot and ankle care. She earned an undergraduate degree from Baylor University in Waco and a Doctor of Podiatric Medicine degree from Temple University School of Podiatric Medicine in Philadelphia. She completed residencies in podiatric medicine and surgery and reconstructive rearfoot and ankle surgery at the acclaimed Cleveland Clinic Foundation in Cleveland, Ohio, and at the Surgical Hospital of Oklahoma in Oklahoma City.
Visit WCFSpecialSurgery.com to read their complete bios.
PATIENTS SAY IT BEST
"Dr. Ciaglia and his staff are simply amazing! From the front desk staff to the nurses to the physical therapist… everyone is wonderful and very compassionate. I appreciate the time they take to make sure they completely understand my needs and answer all of my questions. This is one amazing staff. I feel blessed to have Dr. Ciaglia and his staff taking care of me. I highly recommend him! One of the best!" – B.P.
"I have to thank Dr. Jordan for getting me up on my feet and ready to enjoy two wonderful travel adventures after suffering two painful injuries prior to these trips. His quick and correct diagnosis followed by physical therapy saved me from needing immediate surgery. Dr. Jordan's funny personality lightens the pain, and the caring yet efficient office personnel always seem to make the visit better. Thank you, Dr. Jordan!" – S.C.
"Dr. Patel was very kind and knowledgeable. What I loved more than anything is that she was very conservative with her approach in dealing with my 13-year-old daughter, where a previous podiatrist at another practice was quick to suggest surgery on her feet. My daughter still has several years of growth and surgery is quite invasive, so to have a doctor evaluate and look at the broader scope and beyond surgery as the only option was quite refreshing and very much appreciated!" – D.D.
COMMUNITY MINDED
Woodlands Center for Special Surgery donates to local charities and schools, including Habitat for Humanity, Creekside Elementary School, and Yes to Youth in Montgomery County. Growing to meet the demand for their services, a second location is scheduled to open in late 2019 in Dayton, Texas, near Liberty. A third location is planned for 2020 in Willis, just north of Conroe.
ACCEPTING NEW PATIENTS
Please call to schedule a consultation. Most major medical insurance plans are accepted.
Woodlands Center For Special Surgery
Hand and microsurgery, orthopedics, sports medicine, podiatry
Innovative nonsurgical treatments
Minimally invasive surgery
On-site digital X-rays and ultrasound
3D scans for custom orthotics
Contact
---
17450 St. Lukes Way,
Suite 390
The Woodlands, Texas 77384
(936) 242-1437