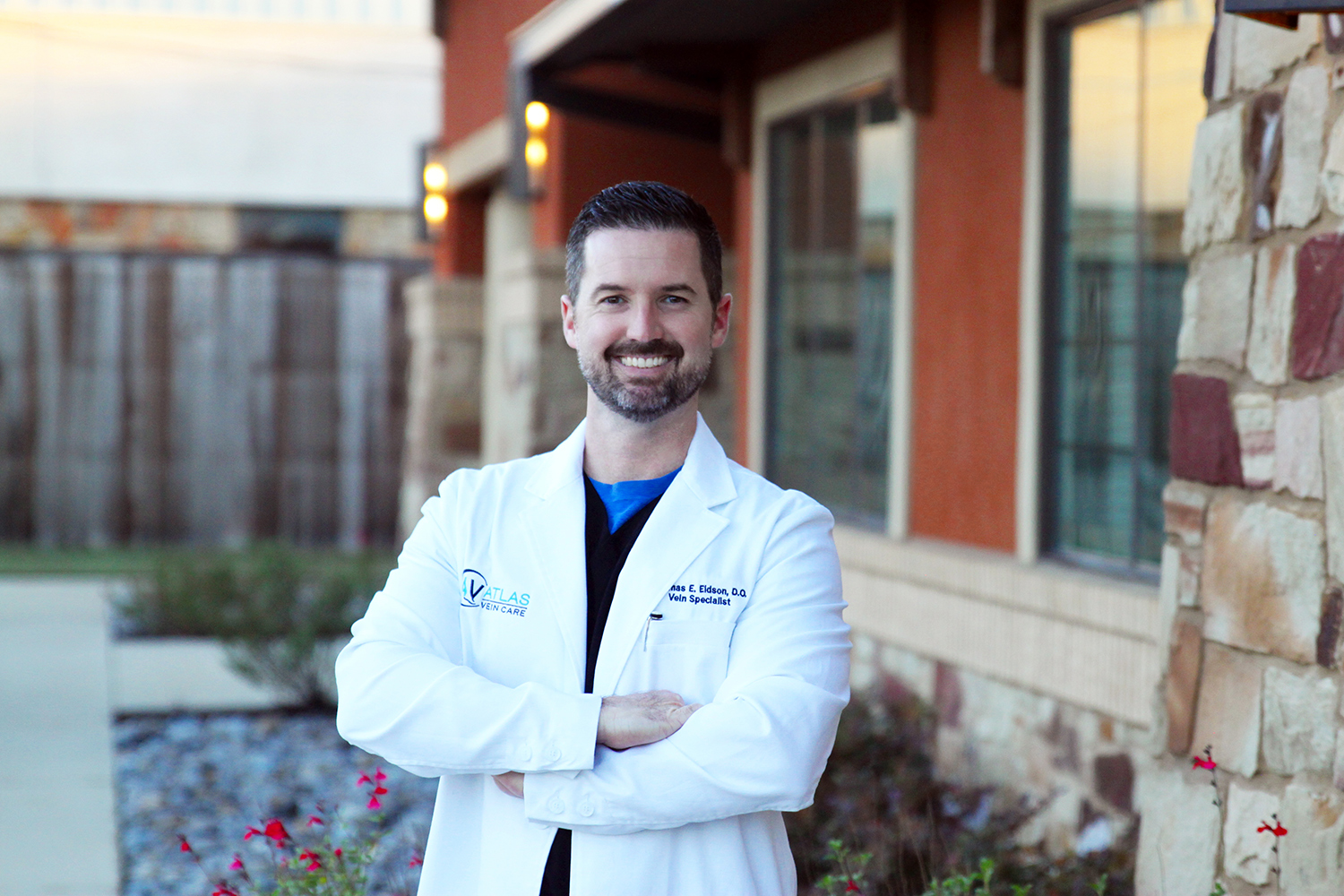 Thomas Eidson, DO
---
Atlas Vein Care
Arlington native Thomas Eidson jumped into medical school, eager to help patients. "While in residency though, I saw patients coming through the hospital complaining of leg pains," he said. "Phlebology wasn't on my radar originally, but I feel I found my calling in vein care."
His patients would agree. "To me there's no greater satisfaction than hearing stories like the grandmother who's able to spend days walking through Disney with her grandchild without the pain her legs used to cause her because of underlying vein problems," Dr. Eidson said. "When we can change a life for the better like that, that's a great day."
At Atlas Vein Care, he focuses exclusively on the diagnoses and treatment of vein-related problems in the legs. Each medical vein treatment is performed by a doctor, never by a nurse practitioner or physician assistant.
Since 2011, Dr. Eidson has safely and successfully performed thousands of vein treatments to help improve patient self-confidence and quality of life.
"My goal and the goal of my staff is to treat each patient as an individual, never just another patient," he said. "It's vital that we slow down and speak to each one and make them a part of their treatment and recovery."

.
When not on the job, he is a husband, fisherman, hunter, gym buff, and musician. He and his wife are active members of Gateway Church where he recently joined the Men's Brigade for Gateway's Grand Prairie campus. "We help serve single mothers and widows in need of tasks, chores, or repairs they either can't do themselves or can't afford to pay someone to do."
"My life's philosophy is to be a good steward of all God has given me," he said. "Ultimately everything we have is God's. Luke 16:10 says, 'If you are faithful in little things, you will be faithful in large ones. But if you are dishonest in little things, you won't be honest with greater responsibilities.' From the moment you step into our clinic, you are family. We want you to ask questions and understand the treatment. We want you to feel better. We thank God for each day that He gives us a chance to help someone feel better, help them get back to a pain-free, normal life."
Expertise
---
Radiofrequency Ablation

Venaseal "Glue" Ablation

Foam Sclerotherapy (Chemical Ablation)

Microphlebectomy

Compression Socks
---
Location
---
2701 Matlock Road
Suite 103
Arlington, Texas 76015
(817) 795-8346
www.AtlasVein.com
By Meredith Knight