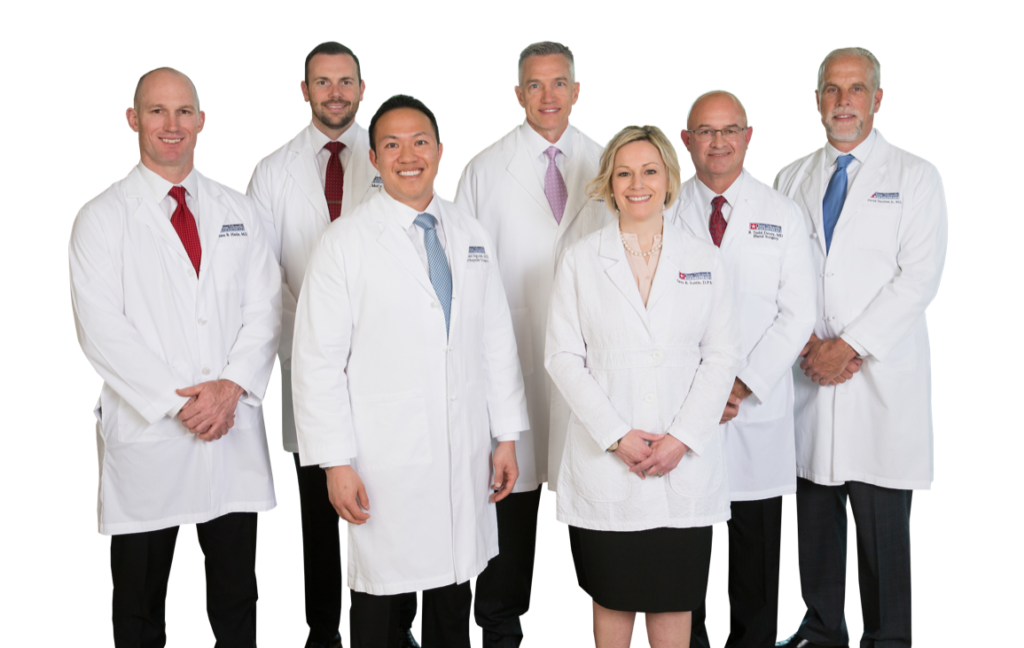 Texas Orthopedic Specialists, PLLC
---
Texas Orthopedic Specialists' award-winning team of board-certified, fellowship-trained doctors and subspecialty physicians take pride in providing quality, patient-centered orthopedic care. This multi-subspecialty group diagnoses and treats a broad range of conditions and injuries affecting hip, knee, shoulder, hand, upper extremity, and foot and ankle, in addition to providing cutting-edge joint replacement, regenerative therapy, and sports medicine. Founded in 2003, the practice has expanded over the years, growing and evolving to best serve their patients.
Meet the Physicians
Texas Orthopedic Specialists' highly skilled medical team offers personalized, compassionate care in two state-of-the-art locations.

Dr. O. David Taunton, Jr.
Over the last decade, Dr. Taunton has almost exclusively specialized in hip and knee replacement. Providing comprehensive care to patients with simple and complex hip and knee disorders, he offers a variety of surgical and nonsurgical treatment options and approaches.

Dr. Howard W. Harris
Dr. Harris is a highly regarded expert who specializes in shoulder repair and reconstruction. He treats a wide variety of shoulder ailments, including arthritis, pain and instability, sports injury, and fracture. His training and extensive experience can help get you back to the activities you love.

Dr. Michael L. Nguyen
Dr. Nguyen is an expert in sports injuries and arthroscopic surgery of the shoulder, knee, and hip. He also specializes in advanced shoulder reconstruction, including minimally invasive rotator cuff repairs, instability repairs, and shoulder replacement, and has extensive experience taking care of athletes at all levels.

Dr. B. Todd Drury
Dr. Drury specializes in hand, wrist, and elbow surgery, and has extensive experience in general orthopedic surgery and all varieties of orthopedic fractures and trauma. Throughout his career, Dr. Drury has been the team physician for high school, college, and professional athletic programs.

Dr. Sara E. Suttle
Dr. Suttle served in the U.S. Air Force Reserve and trained as a surgical technician before her collegiate and medical training. She is an Associate of the American College of Foot and Ankle Surgeons and a member of the American Podiatric Medical Association.
Dr. Matthew G. McCabe
Dr. McCabe is Board Qualified by the American Board of Foot & Ankle Surgery and the American Board of Podiatric Medicine in foot surgery and reconstructive rearfoot surgery. He specializes in pathology and injuries of the foot and ankle.
Dr. Nathan B. Haile
Dr. Haile is Board-Eligible in orthopedic surgery and is fellowship trained in hip preservation surgery and joint replacement of the hip and knee. He also specializes in minimally-invasive, direct anterior hip replacement, minimally-invasive total knee replacement, total hip and total knee arthroplasty, partial knee replacement, revision hip and knee replacement, hip preservation surgery, and hip and lower extremity fractures.
When you or a loved one needs orthopedic care, you can trust Texas Orthopedic Specialists, PLLC to provide the latest treatment options along with compassionate, individualized care.
Location
---
(817) 540-4477
TXOrtho.net
Mid-Cities:
2425 Highway 121
Bedford, Texas 76021
Alliance:
10932 North Riverside Drive, Suite 108
Fort Worth, Texas 76244