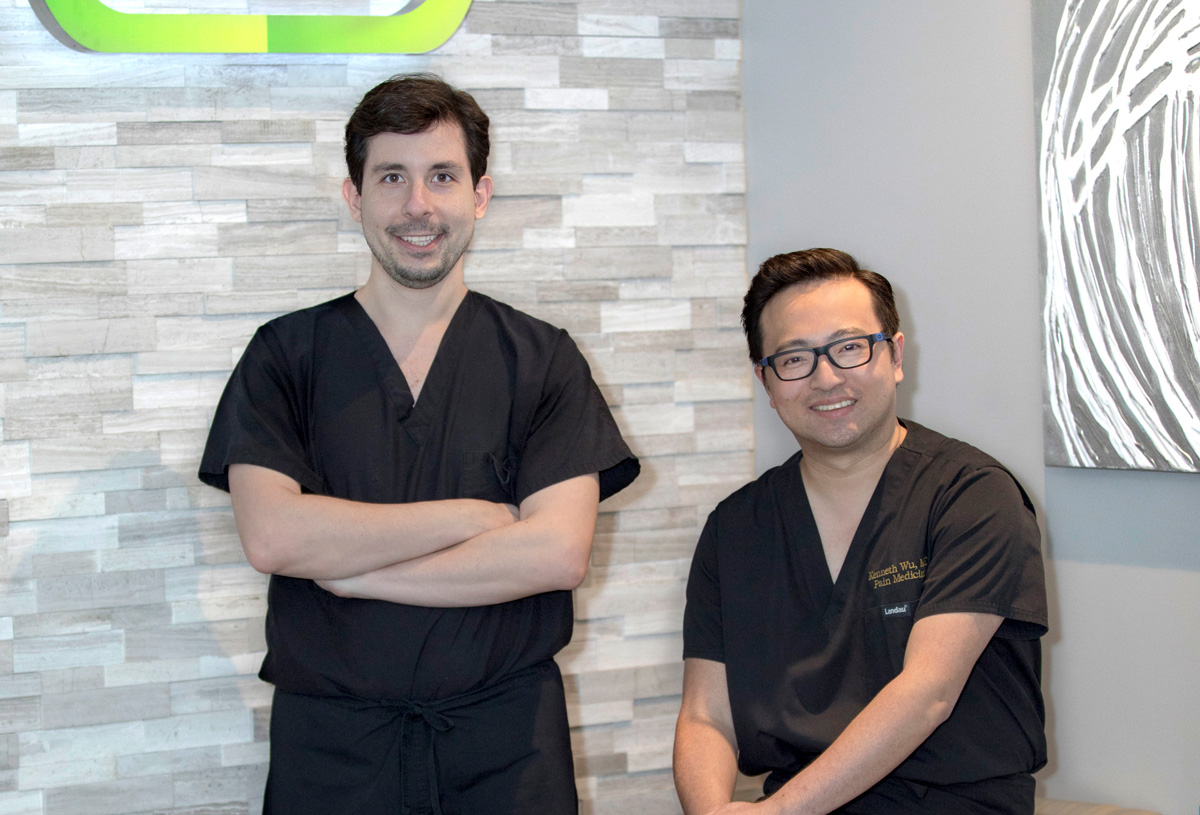 Michael Sprintz, DO, DFASAM, Kenneth Wu, MD, Yoann Millet, MD, Maggie Dickens, LPC, LCDC
Chronic pain can impact all aspects of your life. Finding relief is a top priority, but where do you look and who do you choose?
It may sound like a simple question, but not all pain medicine providers are alike. Fortunately, the Sprintz Center for Pain makes your decision an easy one. With an innovative, multidisciplinary approach to pain management hailed as "life-changing," the Sprintz team is passionate about making a real difference in their patients' lives, handling everything from routine to highly complex cases.
"Sprintz Center for Pain is the only private comprehensive interventional pain practice in Texas, due to the way we integrate world-class experts, interventional procedures and safe and effective medications, as well as diagnostics and behavioral health services to care for all of you," explains the practice's Chief Operations Officer Michael Lu, MBA/HCM, ALM. "Patients and referring physicians alike appreciate that Sprintz Center delivers everything in one place. We give compassionate pain relief with friendly, talented staff and providers."
Finding the Right Solution for Each Patient
The center, led by CEO and Founder Dr. Michael Sprintz, boasts a multidisciplinary team that includes physicians double board-certified in pain management and anesthesia—Dr. Kenneth Wu and Dr. Yoann Millet. Patients also have access to an in-house psychiatrist, a pain therapist, Airroisti physical therapists, a neurologist, and an orthopedic surgeon.
While the team treats your physical pain head-on, they understand that each patient is a complete person with feelings, experiences, and hopes. "We understand that to truly get patients back to doing the things they love, chronic pain has to be tackled from multiple angles. Our practice is unique in integrating all of these services to manage pain," reveals Dr. Wu. They strive to treat all aspects of pain using an integrative team approach that provides a seamless continuum of care.
"Our goal is to offer pain management the way it should be, and a path back to wellness and a more fulfilling life. We listen and empower our patients, and our treatment plans are individually designed to meet each patient's unique needs," says Mr. Lu.
The center's team is at the cutting edge of innovative pain treatments. They are experts in using stem cells and other incredible new therapies that relieve pain and offer hope to reverse chronic damage or degeneration. They also offer a full range of specialized head-to-toe pain-relieving procedures. By staying abreast of the latest developments in pain management, they are among the select few pain physicians also offering minimally invasive surgical solutions to treat unrelenting chronic pain. These exciting new therapies include spinal cord stimulation to treat pain from herniated discs and nerve damage. The doctors also perform a procedure known as kyphoplasty, which fixes broken bones in the spine that may happen with as we age or get osteoporosis.
For their patients' convenience, the center has an in-office surgery suite and IV infusion suite for wellness drips and other advanced treatments. Sprintz Center also offers in-house diagnostic testing, wellness testing, EMG nerve-conduction testing, and home sleep testing. They also have a close partnership with the Vitality wellness clinic which can holistically address health issues that may worsen chronic pain such as obesity or nutrient deficiency.
When it comes to prescription medications, the Sprintz Center team recognizes that they can be an effective treatment in appropriate patients and the goal is to minimize dependence on any medication. "Pain management today is vastly different than what it was even just 10 years ago," explains Dr. Millet. "We have so much more knowledge and so many more tools that patients don't have to rely on medications alone."
Meet Dr. Kenneth Wu and Dr. Yoann Millet
Drs. Wu and Millet are highly skilled physicians double board certified in pain medicine and anesthesiology. Both pursued specialization in pain medicine because they wanted to help relieve their patients' suffering and because of the dramatic and rapidly evolving advances in the field which enables them to provide a broad array of highly customized treatment options. Unlike most pain physicians, they both have undergone dedicated surgical training during residency.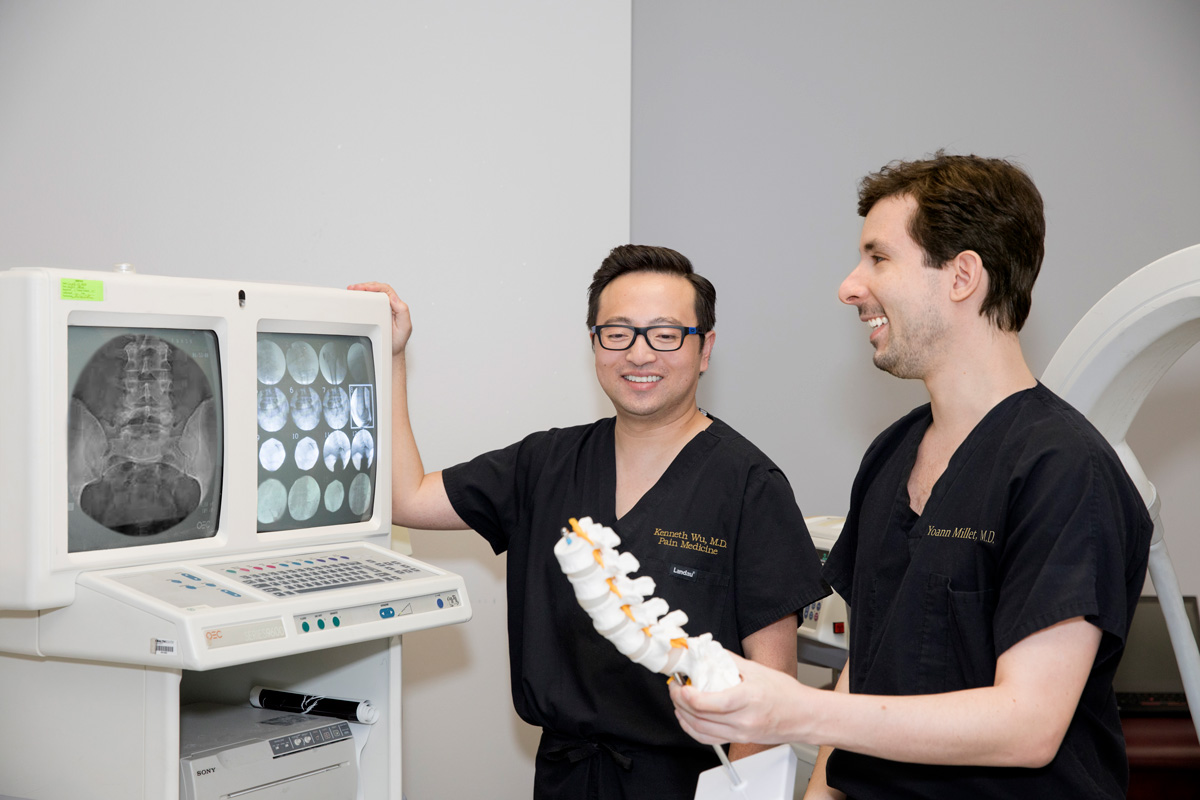 Dr. Kenneth Wu trained in anesthesiology at Baylor College of Medicine after spending two years in a neurosurgery training program. He then completed a pain fellowship at Rush Medical Center in Chicago. Prior to joining the Sprintz Center, he was the director for the Geriatric Pain Center at UT Physicians Center for Healthy Aging and the chief interventional pain management physician at Memorial Hermann TIRR Center.
Dr. Wu provides specialized care for elderly patients and is a leading expert in nerve injury after surgery or trauma. He has a wealth of experience treating devastating neurological injury cases and his work with ketamine infusions and other non-addictive therapies for non-specific long-term pain has made him sought after by patients nationwide. As an adjunct professor with UT Physicians, he stays at the forefront of his field.  
"We don't believe one size fits all when it comes to chronic pain," Dr. Wu shares. "That means we listen to you. We work with you and it's our balanced, comprehensive approach to care and our expertise that leaves many patients telling us they wish they came to us first."
Dr. Yoann Millet finished his medical training at Cornell University and received subspecialty training in pain management at the elite Duke University pain fellowship program. He  is an expert in cutting-edge stem cell pain relief therapies and other regenerative medicine treatments. He also is an expert in fixing broken bones in the spine with  kyphoplasty, and  for his expertise in treating nerve pain with advanced stimulators for years of pain relief.
"We are truly comprehensive. We take the time to listen and understand what's really going on with your pain. People tend to think of "pain management" as focusing on just back pain. We are the best at treating back pain, but we also treat any pain from head to toe," Dr. Millet says. "Our integrated approach enables us to treat all types of patients and conditions. tpyyete s We know how to help you get the pain relief you need.
Relieving Pain, Renewing Hope. Come to the Sprintz Center First
The Sprintz Center for Pain is committed to helping you break free from pain to lead a vibrant, active, and happy life.  The entire team finds it immensely gratifying to help people who have been from doctor to doctor searching for relief, and to help patients regain the ability to do the things they love most. iSchedule an appointment today. Most major medical insurance plans are accepted.
Contact
111 Vision Park Blvd, Suite 100
Shenandoah, Texas 77384
(713) 714-1399
SprintzCenter.com