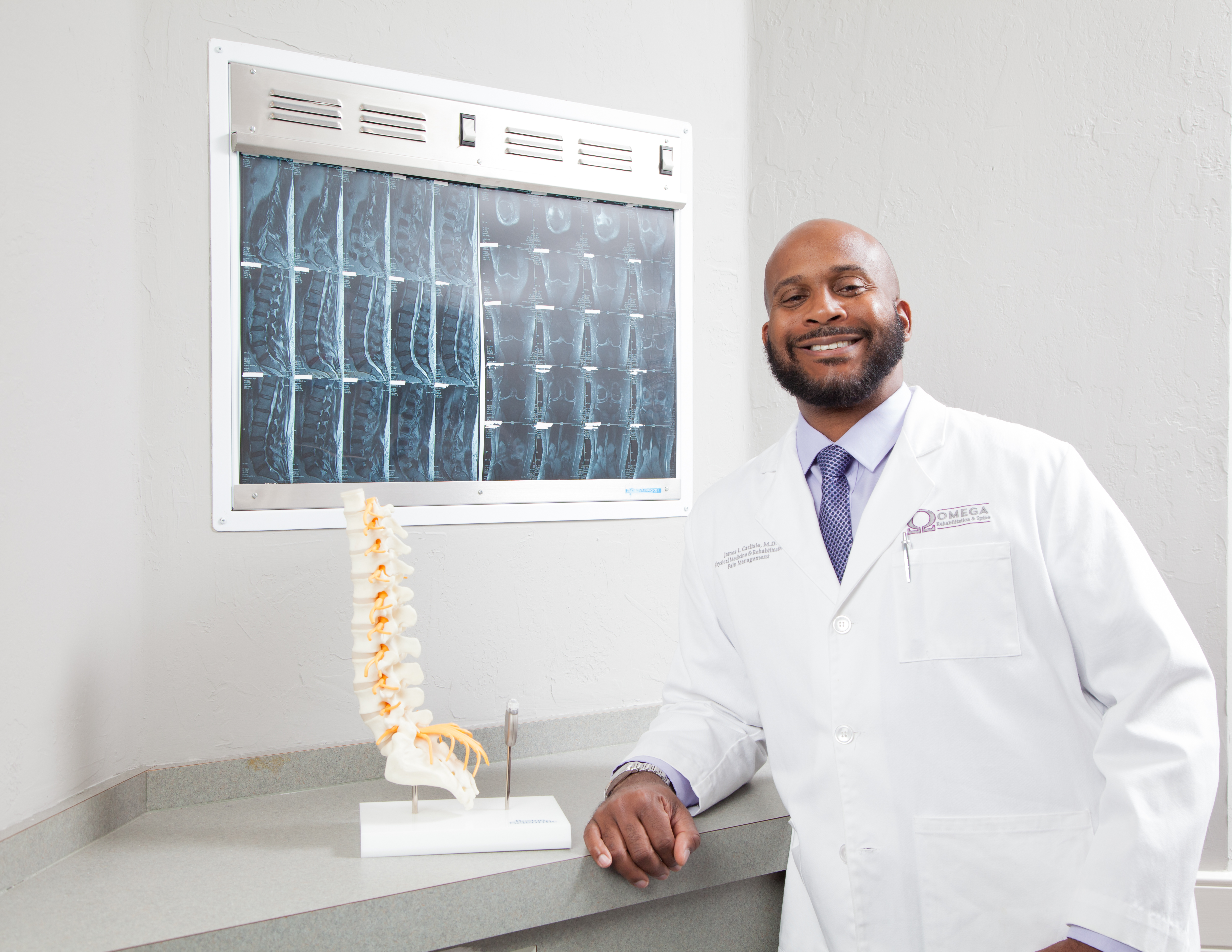 Omega Rehabilitation & Spine
---

James L. Carlisle, MD

If you've been living in pain, you don't have to suffer. At Omega Rehabilitation & Spine, Dr. James L. Carlisle provides comprehensive, competent, and compassionate spine, pain, and rehabilitation care. The practice specializes in physical medicine, rehabilitation, and pain management, offering a variety of nonsurgical treatments for pain.
"My practice is based on a foundation of patient trust, physician empathy, sound medical decision-making, and compassionate care," says Dr. Carlisle. "We can evaluate and treat any kind of injury or pain from head to toe. Let us be your first stop when it comes to seeking relief."

Dr. Carlisle takes a conservative approach when it comes to musculoskeletal injuries, acute and chronic pain, total spine care, and rehabilitative care. At his independent practice, he takes his time with each patient, providing a level of care not often found in larger practices. If Dr. Carlisle determines that more expertise is needed, he can refer his patients to the best local specialists in the fields of surgery, rheumatology, and neurology.
"To us, every patient and every patient encounter is golden. We spend the time to develop a tailored treatment plan for each patient," he says. "We want them to know they're valued and appreciated. My practice is family-owned and operated. My wife serves as office manager and my children work in the practice during the summers. Our intent is to make every patient who encounters us feel a part of the Omega Rehabilitation & Spine family."
While many people tend to pigeonhole rehabilitative care and pain management into a certain area, Dr. Carlisle provides a comprehensive scope. He treats a multitude of symptoms, ranging from muscle and joint pain to numbness in the hands or feet, as well as back pain and arthritic conditions. Through a variety of procedures, including injections, blocks, NCV/EMG ultrasound-guided intervention, and regenerative medical treatments, Dr. Carlisle makes a real difference in his patients' lives.
When he can treat his patients on the spot and see their pain dissipate, he says it's incredibly gratifying. "The best thing for me is when a patient comes in with pain at an eight out of 10 and we can do intervention right there and bring their pain to a one or zero," Dr. Carlisle says.
Patients take comfort knowing they're in good hands with Dr. Carlisle, who received the prestigious Leonard Tow Humanism in Medicine Award for demonstrating consistent compassion with a high acumen for medical knowledge.
Whatever ailments you may face, Omega Rehabilitation & Spine is on your side. "We want patients to know we're an advocate for them," Dr. Carlisle says. "We want to get them to a better quality of life than when they first came to see us."
Location
---

515 W. Southlake Boulevard, Suite 100
Southlake, Texas 76092
(817) 488-6333
2200 Physician Boulevard, Suite C
Ennis, Texas 75119
(972) 875-8430