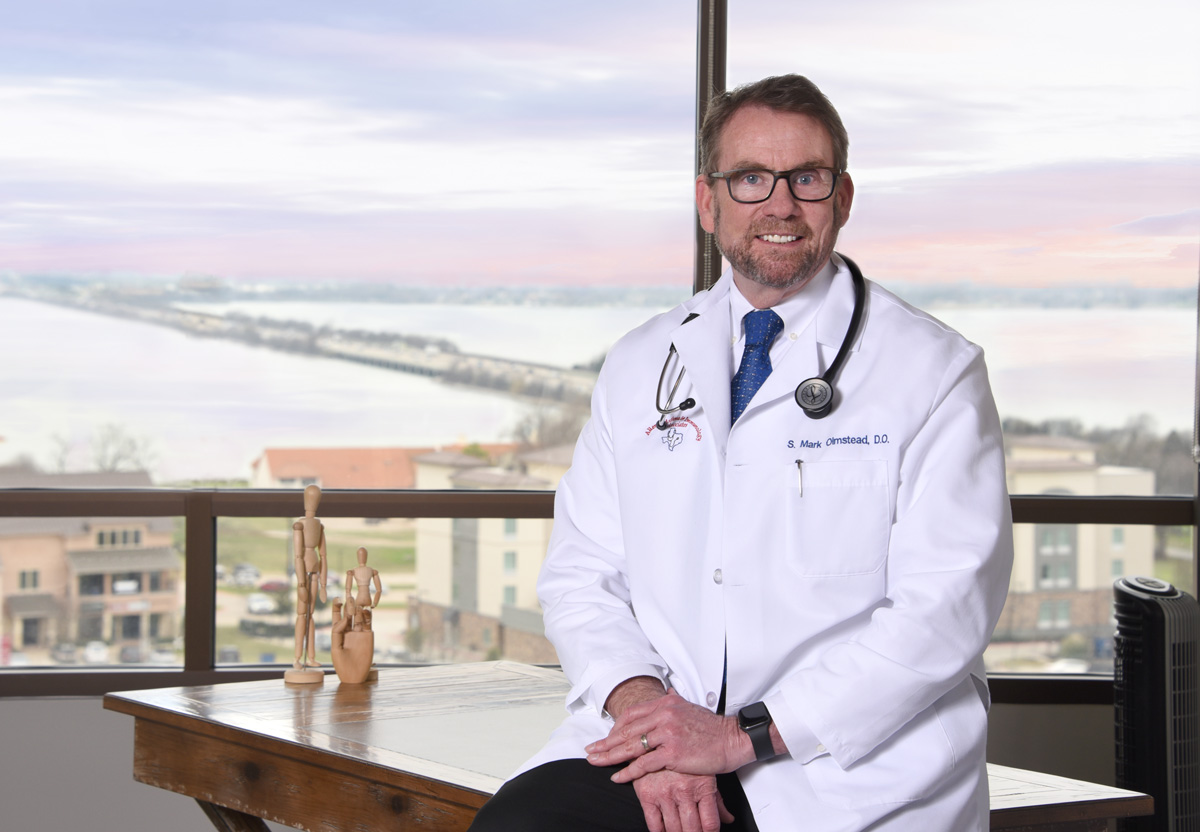 At Allergy, Asthma & Immunology Associates, Dr. Mark Olmstead and his team focus on providing compassionate and empathetic care to every patient. Whether individuals suffer from allergies or asthma, the practice offers comprehensive, knowledgeable care for patients of all ages.
In practice since 1995, Dr. Olmstead is the only board certified allergist/immunologist in the Rockwall area. He has spoken throughout the country on asthma and allergic rhinitis and has previously served on the Board of Directors for the North Texas Allergy and Asthma Foundation for 10 years and the Texas Society of Allergy, Asthma and Immunology for four years.
Dr. Olmstead is passionate about making a difference in the lives of his patients. "When you have allergies, you can't always enjoy time with family and friends or being outdoors," he says. "I find it fulfilling helping people achieve their greatest health potential and best quality of life."
When allergies and asthma start affecting quality of life, Dr. Olmstead encourages individuals to seek help. Whether someone experiences the persistent stuffiness and coughing of seasonal allergies or they have debilitating eczema, there's no need to suffer.
"There's an exploding field of biologics (injectable medications) that target specific areas of the immune system which are adversely affecting a patient. Whether someone is miserable with hives or ends up in the hospital with asthma that is not controllable with an inhaled medication, we can make a huge impact with biologics," Dr. Olmstead says. "People who are miserable due to their asthma, eczema, or hives can significantly improve their quality of life."
Dr. Olmstead explains that biologics are injectables that often have very few side effects. The practice also offers sublingual immunotherapy, which are allergy drops that induce tolerance to their specific allergy/allergen. "We have a broad range of medications and treatments that we didn't have before," he says. "And we have the most experience and expertise of anybody who professes to do allergy treatments in the area."
Many patients have already experienced life-changing results at Allergy, Asthma & Immunology Associates. The practice has earned a perfect five-star rating on Google, with one patient commenting, "So thankful for this office and staff!"
If you or a loved one suffer from allergies or asthma, make an appointment to visit Dr. Olmstead at Allergy, Asthma & Immunology Associates. He's one of North Texas' most qualified and best trained experts in the field of allergy and immunology, and he's ready to help you live a healthier, more enjoyable life.
Contact
2701 Sunset Ridge Drive, Suite 410
Rockwall, Texas 75032
(972) 463-3406
AAIADallas.com
Like us on Facebook at Facebook.com/AllergyAsthmaAssociates