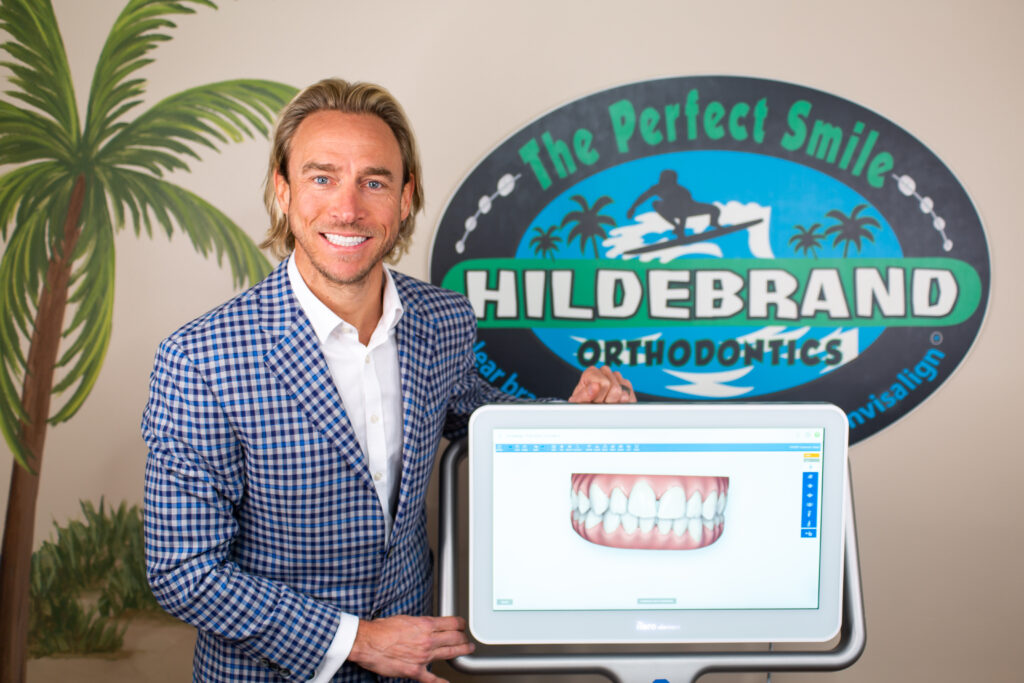 Jed Hildebrand, DDS, MSD
---
Hildebrand Orthodontics
Walk into Hildebrand Orthodontics and you'll know you're not in a run-of-the-mill orthodontic office. From colorful surfer-themed murals on the walls, to the open floor plan drenched in natural light, you'll find an easy-going, patient-centric vibe where state-of-the-art orthodontic care is just the beginning. This boutique practice is a place the young—and young-at-heart—love to be.
Then there's Dr. H himself. With his all-American good looks and never-met-a-stranger personality, he knows how to make the orthodontic experience fun and highly individualized. The waiting area of Hildebrand Orthodontics includes 12 free-play video games, iPads for patients to use during visits, and an oversized HD LCD television. There's even an in-office coffee bar. (Although with a "no-wait" policy, no one's hanging around for long.)
Although Dr. Hildebrand prefers to see a patient for the first time at age seven, many of his patients are adults who either never had braces as a child or didn't wear their retainer long enough. With Invisalign clear tooth aligners and new clear braces, Dr. H can straighten your teeth—often in less than a year—and no one need know about it.
Dr. Hildebrand and his stellar staff not only know each patient by name but know their family as well. Dr. Hildebrand sees every patient at every visit.
"Arlington is a big city with the heart of a small town," he said. "Our goal is to treat a small number of patients very well."

.
Dr. Hildebrand employs the latest, high-tech thermal wires which respond to the temperature of the mouth allowing him to straightened teeth faster than ever before and with far less discomfort to patients. "No more tightening of braces and no more bands on back teeth," he said. "That means far less risk of cavities. We're also using new mini braces, the smallest braces on the market, that cuts treatment time down by six months."
Always on the cutting edge of dental technology, Dr. Hildebrand offers quicker treatment times with fewer office visits, thanks to new mini braces. And the new clear braces are a big hit with his adult patients. Also, there's no more messy impressions because Dr. Hildebrand has the newest wand that digitally scans the teeth and sends the images to the cloud to be 3-D printed. Wow!
Dr. Hildebrand enjoys participating in Christian dental missionary work in Mexico and has traveled overseas to dental clinics in refugee camps in Cambodia, India, and Thailand. He, his dentist wife, and their son and daughter are proud to call Arlington home.
Expertise
---
Texas Monthly – Super Dentist 2008-2018

Top Dentist Award – 2008-2018

Voted Living Magazine BEST Orthodontist 2015 & 2018

Voted D Magazine Best Orthodontist 2015-2017

Top Invisalign provider in Arlington

Past President of Arlington Dental Study Club
Location
---

2200 Interstate 20 W Suite 100
Arlington, Texas 76017
(682) 622-8936