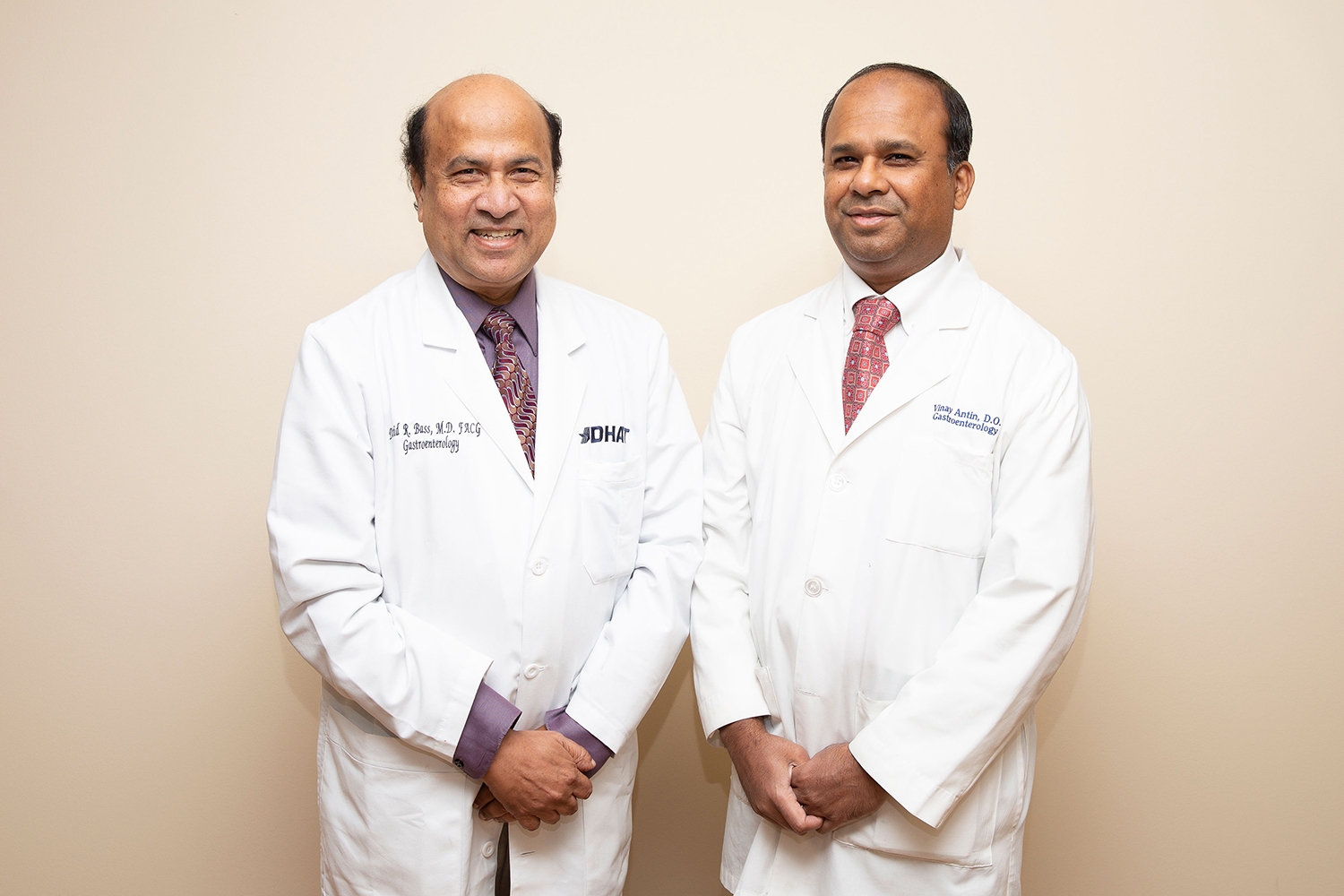 David Bass, MD, Vinay Antin, DO
---
Digestive Health Associates of Texas
Do you suffer from GI discomfort or a digestive system disease? With multiple offices throughout the Metroplex, including North Richland Hills, DHAT brings quality care close to where you live and work. Their board certified gastroenterologists diagnose and treat everything from reflux disease (GERD), irritable bowel syndrome, celiac disease, and chronic hepatitis C to gallbladder disease and gallstones, hemorrhoids, inflammatory bowel disease, and more.
Meet Your Local DHAT Board Certified Gastroenterologists
In practice for more than 30 years, David Bass, MD, stays up-to-date on the latest advances, such as capsule endoscopy, a technology that uses a swallwowed video capsule to take photographs of the inside of the small intestine. Dr. Bass earned his medical degree at the University of Mysore in India, completed a residency at St. Mary's Hospital in Rochester, New York, and a fellowship in gastroenterology at Tulane University in New Orleans.
"My ability to listen carefully, explain, and empathize with my patients can have a profound impact on the patient experience, as well as their overall care," says Dr. Bass, an understanding, compassionate physician who takes time with his patients.
Vinay Antin, DO, earned his medical degree at the University of North Texas, and completed both a residency/internship and gastroenterology fellowship at Specialty Internal Medicine at  University of North Texas & Plaza Medical Center and John Peter Smith Hospital. Dr. Antin was a software engineer before entering medical school. With the technology involved in medicine today, his IT background is a plus.
"My father—a general practitioner—cared for families from many villages around our home town in India. He developed close, caring relationships with his patients, and this is what I strive for, too," says Dr. Antin. "Everyone who walks into my office is family to me."
DHAT is one of Texas' preeminent full-service gastrointestinal specialist groups. Drs. Antin and Bass treat patients in the Alliance, Keller, and North Richland Hills area. Call to schedule an appointment today. Most medical insurance plans are accepted.
Location
---
300 N Rufe Snow Drive
Keller, Texas 76248
4375 Booth Calloway Rd.
Ste. 307
North Richland Hills, Texas 76180
3025 N. Tarrant Parkway
Ste. 350
Fort Worth, Texas 76177
5445 Basswood Blvd.
Ste. 680
Fort Worth, Texas 76137
(682) 463-0400
By Annette Brooks