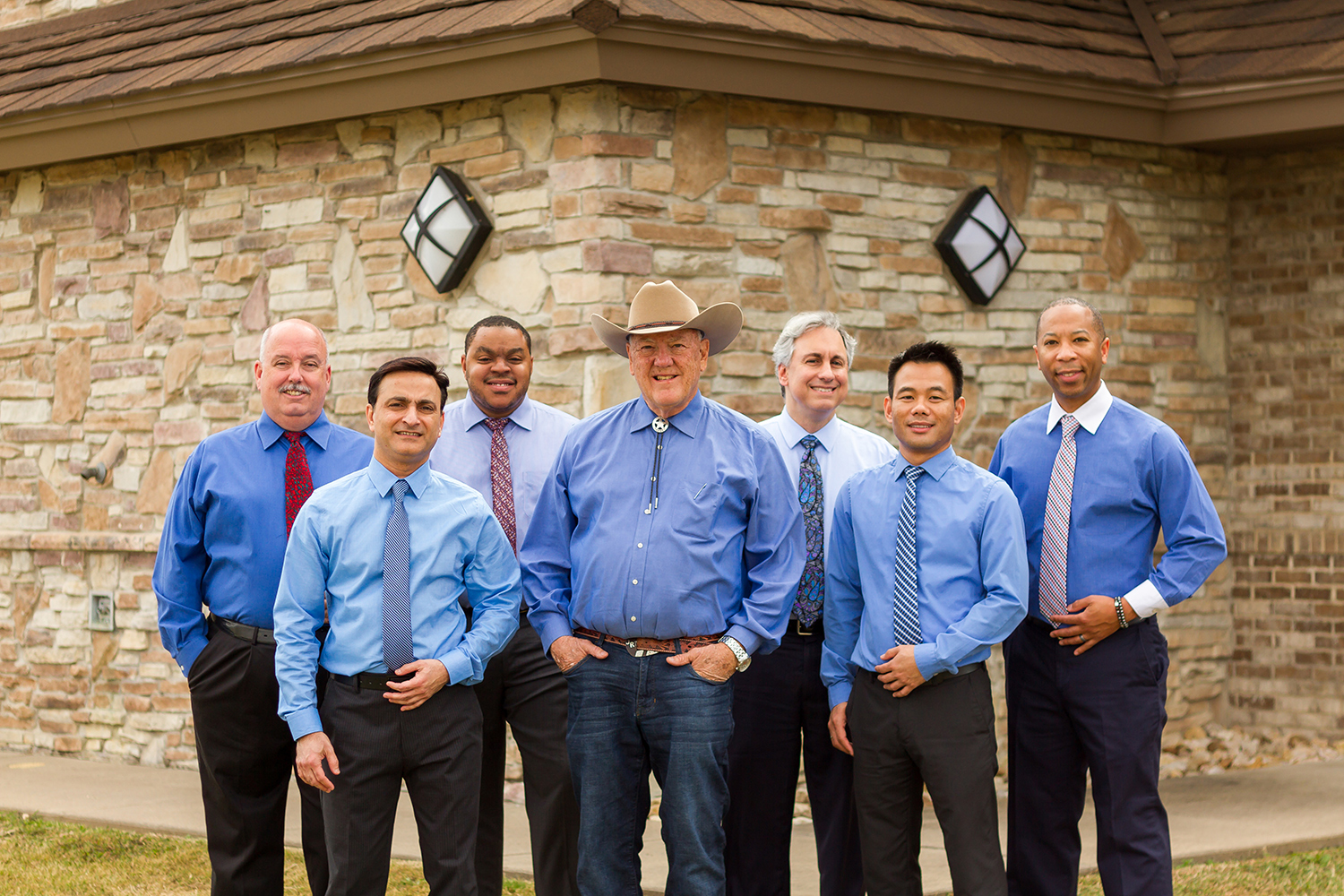 James A Richardson, MD, Alan M Taylor, MD, Shoaib H Saya, MD, Michael D Venincasa, MD, Levi A Rice, DO, Danny Le, DO, Curtiss R Moore, DO
---
Cardiology Partners
The human heart has the ability to pump about 2,000 gallons of blood each day, beating 60 to 100 times per minute, sending oxygen and nutrients to all the systems of the body. And it does it without taking a break. For over 40 years, the doctors and their team at Cardiology Partners have made it their job—and their passion—to keep the hearts of Mansfield pumping and beating along. For over four decades, they've delivered world-class care with the latest innovative treatment options, combined with the extensive experience and expertise of the founding partners, to bring highly sophisticated and effective care to their patients.
Founded by Dr. James Richardson as a solo cardiology practice in the late 70s, Cardiology Partners has grown to become the largest cardiology practice in Mansfield, serving over six area cities and thousands of patients. Through it all, Exceptional Care and Service have been their hallmark. The practice offers minimally invasive in-office procedures, as well as on-site testing laboratories for traditional and nuclear stress tests, non-invasive vascular studies, echocardiography and electrophysiology. The nuclear and echocardiography labs are fully accredited and the vascular lab is in the accreditation process. These in-house labs will allow patients the added convenience of completing more of their care in one convenient location. In-office diagnostic procedures include EKGs, carotid sonograms, and numerous tests to evaluate venous and arterial circulation in the legs. Treatments range from the evaluation of patients with acute myocardial infarctions and non-surgical atrial septal defect repair to the treatment of varicose and spider veins.
Cardiology Partners is committed to giving back to the community through various hospital and community sponsored events and educational programs including hospital outreach such as Echoes for Athletes which offers free sports physicals and echocardiograms to MISD student athletes, in conjunctions with Methodist Mansfield Medical Center and MISD athletic district officials. Cardiology Partners' physicians Dr. Alan Taylor, Dr. James Richardson, and Dr. Levi Rice volunteer their time each spring to perform echocardiograms on over 100 athletes, examining their hearts to help detect abnormalities and/or other cardiovascular conditions, to make sure they're healthy for their upcoming sports season. The Methodist Mansfield sports physicals and echocardiogram community outreach program was honored with both a 2018 Fort Worth Business Press Healthcare Hero Award and a 2017 D CEO Excellence in Healthcare Award. Cardiology Partners has been voted 'Best Of ' in Cardiology in the Arlington and Mansfield area by Living Magazine for three straight years. But perhaps the greatest vote of confidence comes from their patients who continue to recommend them to their family, friends, neighbors, and coworkers. They accept most major insurance plans and are currently accepting new patients.
Expertise
---
Cardiology Partners provides these and other services:
Cardiovascular Diagnostic Services

Cardiovascular Invasive Procedures

Evaluation and treatment of Vein Disease

Evaluation and treatment of abnormal heart rhythms

Evaluation and treatment of Heart Failure

---
Location
---
851 Highway 287 North
Mansfield, Texas 76063
(817) 842-2500
By Meredith Knight