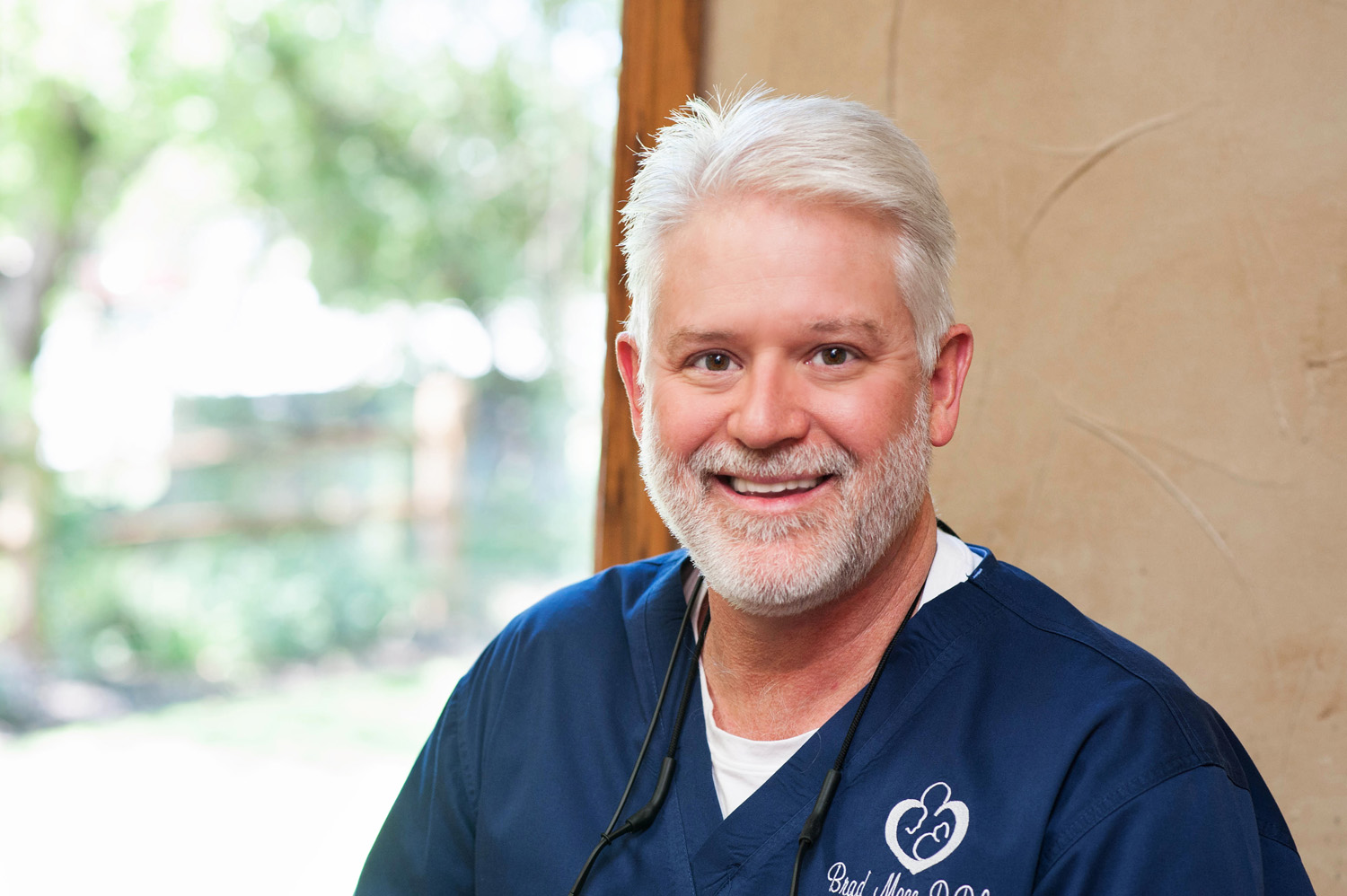 Brad Moss, DDS
---
The Office of Brad Moss, DDS
It's hard to predict what events will impact a person's life most. For Brad Moss, an accident during his teen years planted a seed that eventually grew into a fulfilling career. Dr. Moss recalled, "I was a pole vaulter in high school. After clearing my personal best height of 13 feet 6 inches, I landed wrong on the mat and nearly bit off my tongue." After many stitches and weeks with a swollen tongue, it eventually healed, but Brad walked away with a new perspective on the ability to communicate.
Fast forward to his senior year when Brad made the acquaintance of a local jeweler. "I was instantly intrigued by the demanding and intricate attention to the smallest details that jewelry making requires," he said. "Working with him, I discovered I enjoy working with my hands in intricate ways. My mother was a school nurse, so I grew up watching her care not only for her own family, but for everyone else. My father, an agronomist, was a true people person who never met a stranger. He was a wonderful storyteller, and I attribute my curiosity and listening skills to him."
How lucky for Brad that he was able to combine all these interests and skills—his proficiency with intricate hand work, his inherited love of caregiving, his gregarious personality, and a lifelong love of learning, and to have found a career where all these elements serve him—and his patients—so well.
Now, as Brad Moss, DDS, he's at the helm of a thriving family dental practice with a staff of seasoned assistants and hygienists and an ever-growing patient base that often includes three or four generations of the same family.
"Preventive care is a hallmark of our practice," he said. "If we can educate our patients about proactive tooth and gum care, we can help them preserve natural, healthy teeth for a lifetime. If we make a trip to the dentist a friendly, enjoyable experience, people are more likely to be diligent about all-important cleanings and exams."

.
Dr. Moss also offers a full menu of restorative dentistry services. "My team and I offer everything from a simple filling or sealants to surgical implants and full mouth makeovers," he said. "We also offer cosmetic dentistry, including teeth whitening, porcelain crowns, bridges, bonding, tooth-colored fillings, and porcelain veneers, because a healthy smile can contribute to your overall health."
Dr. Moss and his team employ the latest dental technology including digital X-rays, intraoral cameras, comfortable injections, CariVu for early cavity detection, and minimally invasive air abrasion to remove compromised tooth material, often without injections. But more importantly, they offer the human element—an environment where the patient always comes first and where time with the dentist doesn't begin and end with dentistry. Dr. Moss believes the ability to be engaged and truly listen to your patient is one of the most important attributes a healthcare provider can possess.
If this sounds like the dental team you're searching for, call (817) 488-6513 to schedule an appointment.
Location
---
1011 North Carroll Avenue
Southlake, Texas 76092
(817) 488-6513
BradMossDDS.com